Why did I choose this tool?
According to Dr. Melanie Dodd, "The impact architecture has on a person's mood is huge. Arguably these are fundamentals of architecture: not how it looks, but how we feel it, through the way it allows us to act, behave, think, and reflect."
How does this apply to being a trainer?
Trainers facilitate the learning process, and this process happens in time and space. It is incredibly important to be aware of "space facilitation". And the first step to master that is to be able to organize your own space of learning and reflection.
Main content:
The non formal learning requires time for reflection. The more scheduled this time is during your week, the more effective reflection you'll experience. The place of reflection is also important.
Is it in your garden, in the park or in your room?
Take a time and analyze with us your regular space for learning.
Some tips:
It's good to have one dedicated space for learning and reflection: Select an area you already associate with learning. The more time you spend in it, the stronger the association will become. Eventually, you will find yourself feeling more focused as soon as you enter the space.
Stay organized. Store your materials for reflection in a rolling cart, backpack, or something else that is easily transportable. Also good organized folders in your computer will help you with learning.
Comfortable space for learning and reflection: Both your table and chair should allow good posture, and when you're seated, the top of your desk should rest somewhere between your chest and rib cage. This way, you'll be able to rest your elbows on the desktop without having to hunch your shoulders forward. Additionally, the chair should be comfortable, fit the height of the desk and allow your feet to rest flat on the floor. If you work in the garden, make sure that your posture is comfortable, that you have enough space for materials and you are safe from the wind and rain 🙂
Make the space yours. Arrange the space according to your preferences; surround yourself with elements which have a positive impact on you (posters, colors, plants, pictures, music, light, smells). Make it in your style 🙂
Excercise1:
Step 1.
Draw the plan of your place where you live (home, apartment, flat etc.) Mark with a drawing the entrance, the rooms, the facilities, the doors, the windows. Look at the example: Graph No. 1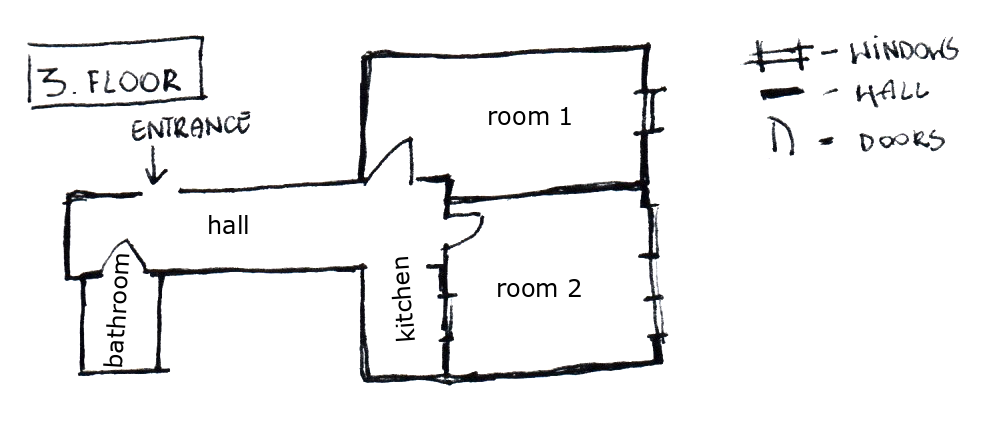 Step. 2. Now, choose one color, and mark the places where you can freely move and reorganize space.
Example: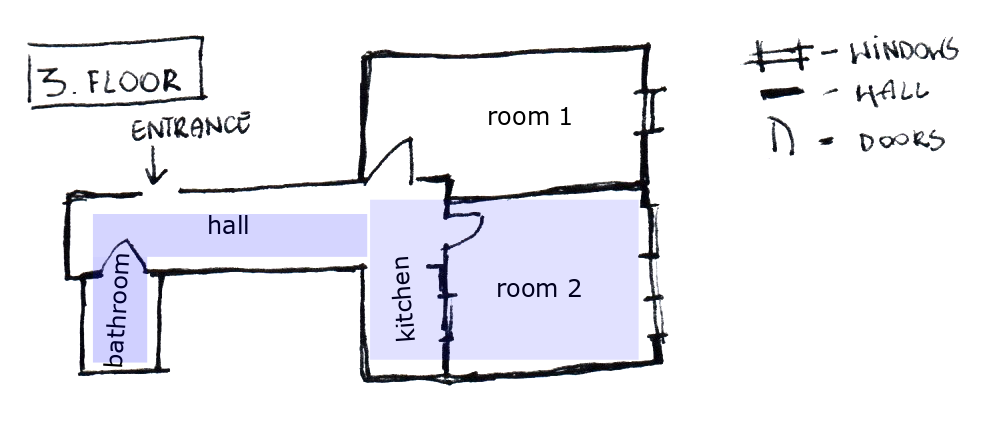 Step.3. Now choose another color and mark the space where you spend time to learn and reflect.
Example: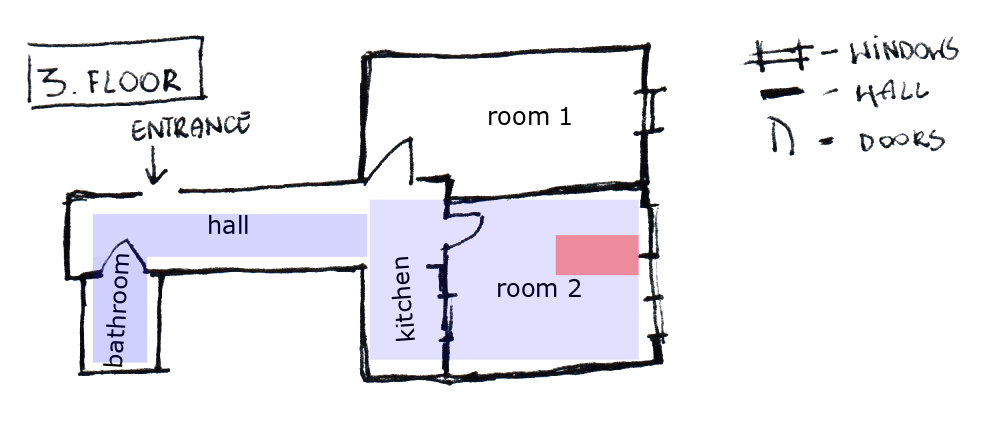 Reflection:
Look at your designs.
What is your first impression?
How does your learning space look?
Would you like to change anything?
Would you like to keep anything?
Exercise 2:
Take a closer look at your learning space.
Draw in the details of the space where you usually learn/reflect. Draw the furniture, the chairs, the objects on the table (if there is a table), plants etc. Try to draw as many details as possible. Look at the example.
Reflection:
Look at your design.
What is your first impression?
How does your learning space look?
Would you like to change anything?
Would you like to keep anything?
Exercise 3:
Draw the learning space of your dreams, try to reorganize the space that you have, find the best environment for your learning/reflection time. Draw your dream 🙂
Our example of changes: more mobile and lighter furniture, more light, better organization of space, beautiful plants.
What is your plan?