Why?
The importance of drawing (both formal drafting and informal sketching) during the process of mechanical design is super important, according to DAVID G. ULLMAN, STEPHEN WOOD and DAVID CRAIG in their study THE  IMPORTANCE  OF  DRAWING  IN  THE MECHANICAL  DESIGN  PROCESS. It supports creativity and allows you to discover new connections and understandings. Drawing is a way to reach innovation.
Why trainer?
Very often as trainers we are working in multicultural environments. The visual language not only brings people together, but it also reveals an inner understanding of ourselves.
Work with the following images. Go through all the stages step by step without looking at the next one. Your task would be to complete each following drawing and describe how you perceive it and what your thoughts are about. Allow yourself to take this journey. Be precise while drawing, express yourself freely and be honest with yourself about the interpretations 🙂 This will awaken a curious learner within and reveal your own understanding of what "learner" means to you personally.
STEP 1.  These four sketches represent 4 states of a learner, how would you describe them? Complete the drawing the way you want. The starting point is the same for every figure. Add face and body. Each figure should represent a different style/phase of a learner.
Complete a drawing – 4 phases of learner.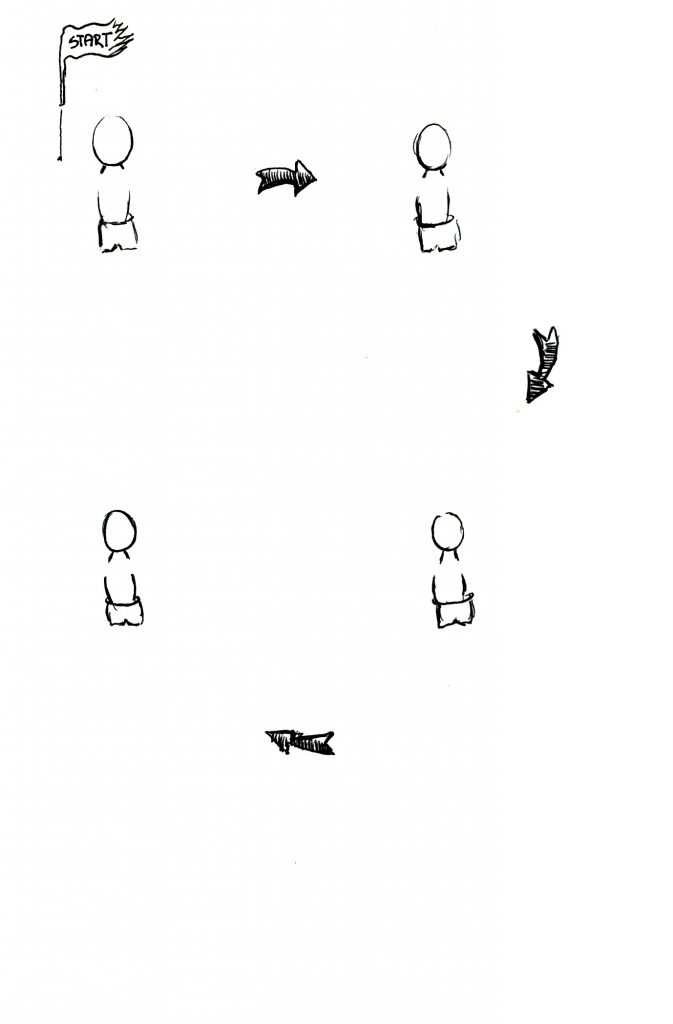 STEP 2. Look at the sketch no 2. Compare it with your own. What is different?
Describe all the differences ………………………………….
……………………………………………………………………
……………………………………………………………………
Put your first sketch aside and continue working with sketch no. 2. How would you rename those figures? How would you finish the drawing of the whole body? What is different now? Describe each character and what kind of learner it represents.
STEP 3.  Look at a sketch no 3. Compare your drawings. What surprises you? What makes those drawings similar and what makes them different? Please try to describe the figures of a learner in the sketch number 3. What types of learners those 4 figures represent? What differentiates them?
Reflection: ………………………………………………
……………………………………………………………
……………………………………………………………
Step 4. Look at the final sketch. It represents the theory about the 4 phases of a learner. Write down your impressions. Look at the previous drawings and choose which type of learner you are. You don't have to always follow the theory, it may happen that one of your drawings was representing you.
Which figure, from all sketches, represents you as a learner? Why?
…………………………………………………………
If you would be invited to write down your own theory about learning, what would it be?
…………………………………………………………
…………………………………………………………
Reflective learner:

•   is not only strategic in the process of thinking, but is also able to reflect upon their own thinking-in-progress, pondering strategies and revising themes appropriate.

•   thrives in the unfamiliar or the unknown.

•   actively learns from failure or setbacks.

•   has developed a considerable degree of resilience and determination.

Strategic learner:

•   can organise his/her own thinking by using problem-solving, decision-making, evidence-seeking and other kinds of cognitive strategies.

•   is successful where the task or activity is known to them and is able to select an appropriate approach based on prior understanding and knowledge.

•   in a new situations or contexts she/he can be lost.

Aware learner:

•   knows about some of his/her types of thinking.

•   he/she can compare and apply outcomes but is not strategic in their own thinking,

•   barriers in learning in the form of misconceptions are prevalent and these learners do not work hard to overcome them.

Tacit learner:

•   is unaware of how he/she thinks and learns

•   simply accepts whether he/she knows something or not

•   will very likely have barriers in the way of his/her own progress and development.

From a tacit learner to reflective learner – evolution
Reflection questions
How was it for you to finish the drawing started by someone else?
Does drawing and comparing drawings help you in learning and how?
Which elements of drawing could help you learn better?
What would you need more to learn through drawing?