Introduction:
Information and communication technologies (hereinafter ICT) and specifically E-learning are essential nowadays for several reasons, of political, sociological and economic order, and have marked a crossroads in the current learning and communication paradigms. E-learning is also part of this tendency.
Content:
ICT tools? What do we mean?
According to UNESCO (2002), information and communication technology (ICT) may be regarded as the combination of 'Informatics technology' with other related technology, specifically communication technology. The various kinds of ICT products available and having relevance to education, such as teleconferencing, email, audio conferencing, television lessons, radio broadcasts, interactive radio counseling, interactive voice response system, audio cassettes, and CD ROMs, etc have been used in education for different purposes (Sharma, 2003; Sanyal, 2001; Bhattacharya and Sharma, 2007). ICTs have the potential to accelerate, enrich, and deepen skills, to motivate and engage students, to help relate school experience to work practices, create economic viability for tomorrow's workers, as well as strengthening teaching and helping schools change (Davis and Tearle, 1999; Lemke and Coughlin, 1998; cited by Yusuf, 2005)
Types of ICT Tools

The most common that are used actually in the field of training are ICT that allow cooperative work, sharing ideas and information in a comprehensive way as:
All these tools are fostering a different aim and they could be used to facilitate learning, sharing information, create background preparation before and activity and foster the reflection after it.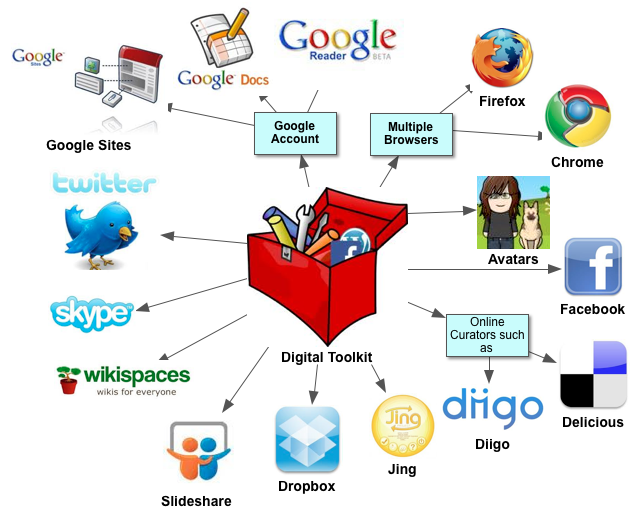 Google Docs offers to non-profit organizations as well to educational institutes the possibility to access to a variety of online tools for cooperative work and production. In Google, Suite would be possible to access Google Docs, but also to Classroom, chats and getting special support for specific software needed for educational purposes.
There are quite many online tools (some free) that are quite used in training context for sharing information, collecting feedback or rephrasing concept from a different point of view, like the following one (the list is not exhaustive, but would like to provide an idea of possible tools):
Some other tools could be very useful for organizing the trainers' assignments and tasks:
and many others. The main issue for a trainer nowadays is to understand what is needed for getting the best if his training experience and define which is the is of using these ICT tools (which is the main specific objective).
Exercises:
How to apply it in everyday work?
Nowadays the digital facilitation is quite often presented in big events, but still, sometimes it is not clear why and what would be needed and which the main objective should serve it.
Let's try to do a simulation exercise! Take one of the most updated programs of training that you had realized or, even better, take one program that you are preparing.
Identify in the program the objectives that could be served by having ICT tools and define a plan as follow:
| | | |
| --- | --- | --- |
| Aim | Activity | ICT Tool/Offline tool |
| | | |
| | | |
| | | |
| --- | --- | --- |
| Aim | Activity | ICT Tool/Offline tool |
| | | |
| | | |
| | | |
| --- | --- | --- |
| Aim | Activity | ICT Tool/Offline tool |
| | | |
| | | |
Try to be very precise in this planning and stick on this as much as possible.
After the activity, assess the difference between having used or not ICT Tools:
did the use of ICT Tools for an added value?
what ICT Tools allow to do/share/realize in the activity that wouldn't be possible without?
did I feel comfortable in keeping the educational frame of the training and managing at the same time ICT tools?
Reflection Questions:
Do I feel comfortable using these innovative tools?
Is it really clear what they are and how I can use them?
How I assess my trainer's competencies about ICT Tools?
Which are the risks that I see in using ICT Tools and which are the advantages?